DJI's Matrice 300 RTK drone and Zenmuse P1 payload are very likely to become the new industry standard for aerial surveying and mapping.
Altametris, a SNCF company and leaders when it comes to collecting, processing and analysing data, believe that DJI's Matrice 300 RTK drone used with Zenmuse P1 payload set the standard having put them through rigorous and demanding testing.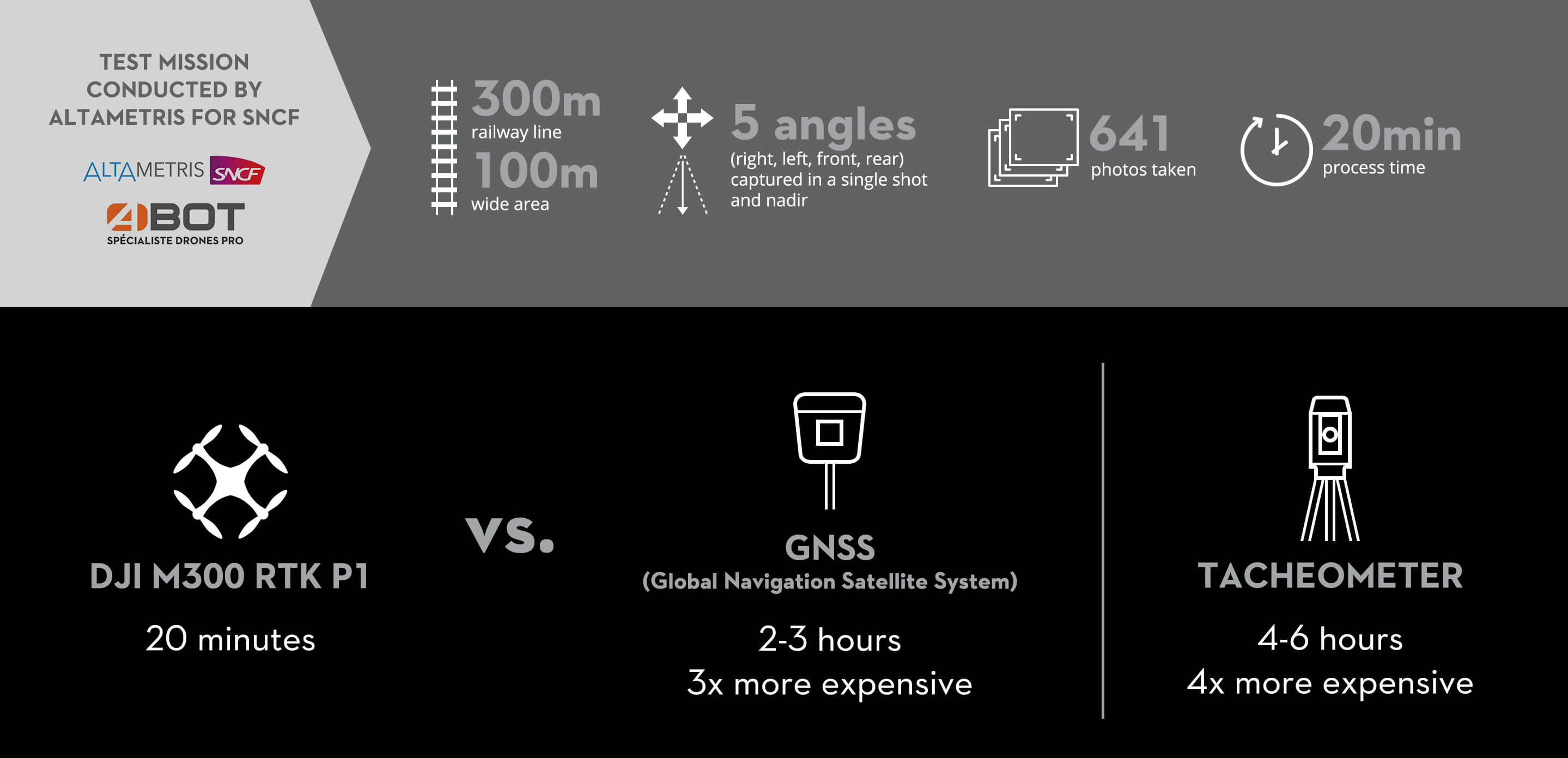 Utilizing drones to take surveying operations to the next level
In January 2021, a team of Altametris drone specialists tested and compared different surveying methods using a section of SNCF's railway lines. Previously around 40 ground control points (GCPs) per square kilometers were required to achieve accuracy to 3cm, which can take at least 3 hours to set up. An alternative way to achieve similar accuracy is to use a highly accurate tacheometer, however conducting a survey would take twice as long.
How Altametris used to map and survey a railway track: GCPs are materialized by plates with black and white checkerboard. The coordinates of the center of these plates are registered by the GPS Spectra. (Image credit: Altametris)
Both techniques rely on human resource to operate equipment on and around the railway line, which not only presents a huge risk to human life but is also not suited to some complex railway terrains that are hard to accurately map. It is for this reason that drones have become popular in surveying as they provide a way for surveyors to work faster, safer and more accurately in a cost-effective way.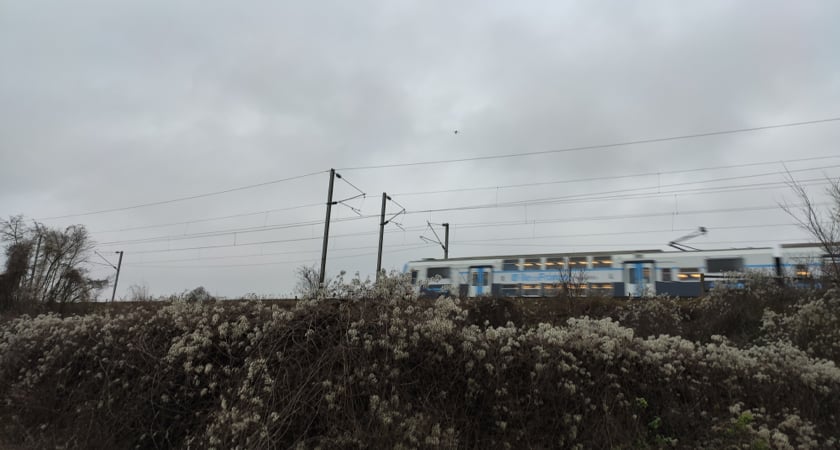 Surveying operations often involve significant safety risks for workers. Using the DJI drone surveying and mapping solution, they no longer need to move around the railway tracks. (Image credit: Altametris)
With all the challenges in mind, Altametris wanted to test the Matrice 300 RTK with Zenmuse P1 in an attempt to map the area in a faster, safer and more accurate way than ever before. Thanks to a built-in RTK module and a huge amount of metadata which is linked to the exact centre of the P1's full-frame sensor, a survey like this one could theoretically be conducted with no GCPs. Altametris stationed six GCPs on the route for quality control reasons which, compared with setting up a normal number of GCPs, saved two hours alone.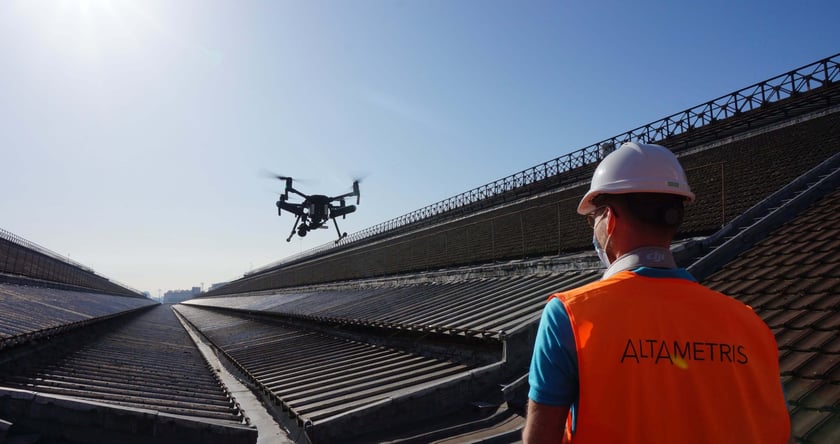 Traditional surveying and mapping alternatives usually need 2-3 personnel versus just 1 drone operator which lead to cost savings. (Image credit: Altametris)
A highlight in low light
The Matrice 300 RTK is the ideal drone to power aerial surveying missions – not only because it boats hugely impressive flight performance but also because it can carry a powerful camera payload of your choice. When it comes to surveying, the Zenmuse P1 can take surveying to the next level thanks to its full-frame sensor.
When Altametris undertook their site mapping, the light quality was poor and hence why six GCPs were set up. Nonetheless, once the area was prepared and the area to be mapped was selected, the drone was launched and 641 pictures from up to 5 different angles were captured on every checkpoint. The Zenmuse P1 is able to capture so many images automatically thanks to its mechanical shutter.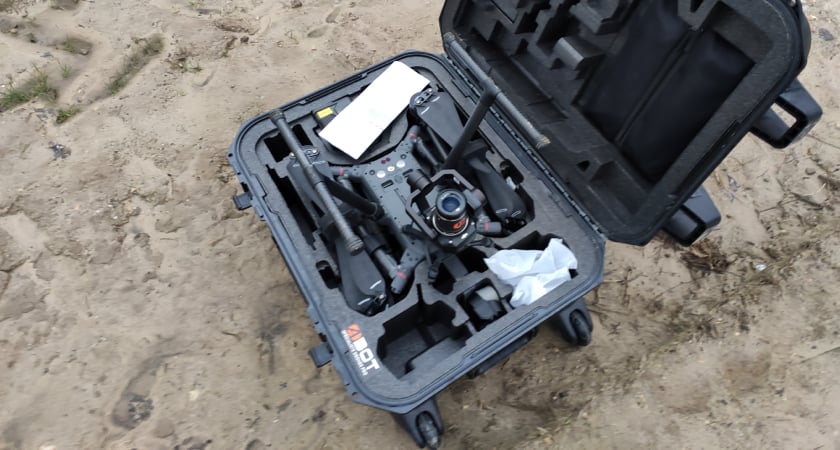 The DJI Matrice 300 RTK is easily transported in its case. Deployment only takes a few minutes. (Image credit: Altametris)
The Zenmuse P1 has a Smart Oblique Capture mode, which is that allows it to collect so much data in such a short space of time. The camera tilts and rotates automatically when it hits each of its checkpoints, capturing its surroundings from every angle. By leveraging this feature during a pre-planned flight, the drone operator can launch and complete an entire mission with one push of a button, all while standing at a safe distance.
Despite the low-light conditions, the P1 produced incredibly accurate data and high quality images thanks to its full-frame sensor. Pictures which show noise can significantly damage surveying accuracy, which can be highlighted even more when filming from altitude and can result in measurements being wrong by several centimeters. Thankfully, the P1 captured images with no noise at all, this not impacting the accuracy of the final model.
DJI Terra software for drone surveying and photogrammetry
It's no good capturing vast amounts of photographic data without an appropriate platform to process it and build a valuable output such as a 3D model. That's where DJI Terra comes in.
Terra automatically creates a could point out of the images captured, which it then stitches together by matching the pixels of the images. The point cloud creates a 3D mesh, forming a frame which can then be rendered into a 3D model.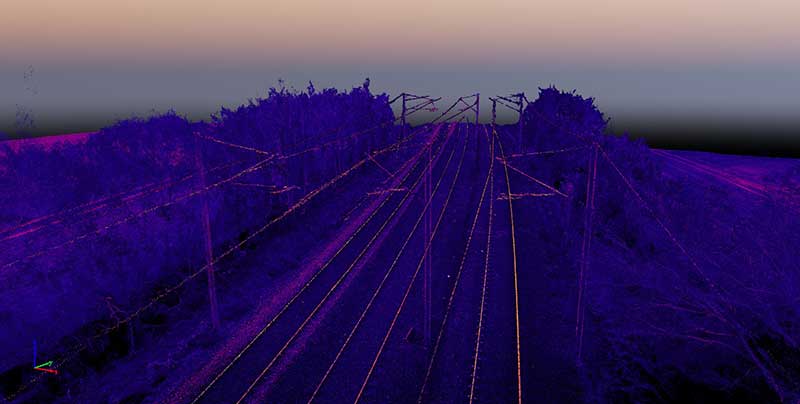 The point cloud map generated from the P1 was produced with little noise. Electric wires were also visible. (Image credit: Altametris)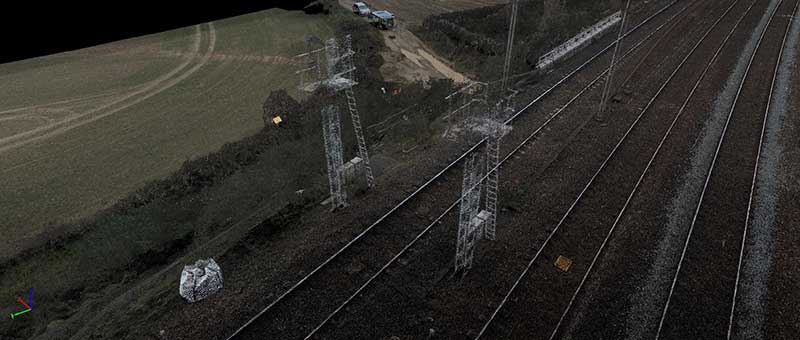 (Image credit: Altametris)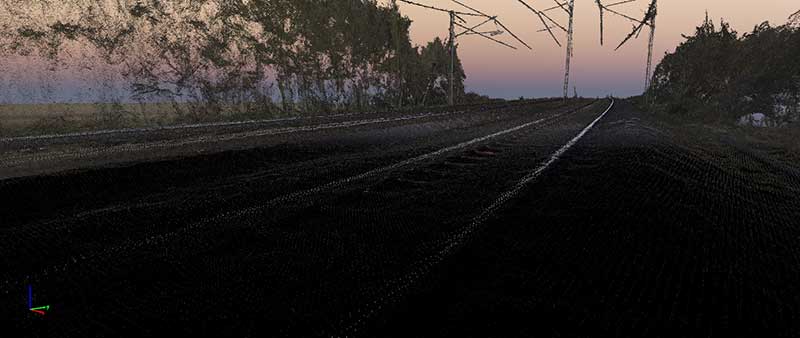 Little noise from the railways (Image credit: Altametris)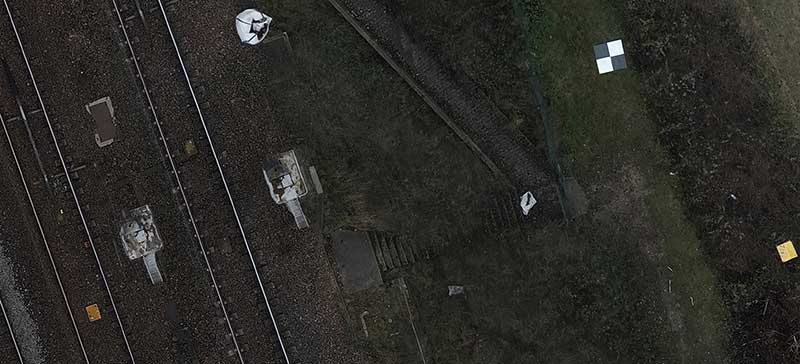 (Image credit: Altametris)
The Matrice 300 RTK + Zenmuse P1 package provides the quality and time savings to meet ever more demanding photogrammetry needs. – Quentin Leemesle, Altametris
The whole process of building a 3D model is automated, which makes building of digital assets like 3D models achievable for even inexperienced drone surveyors. But despite its automated work, the point cloud can be adjusted manually – this is useful when checking that points haven't been accidently matched incorrectly. When Altametris conducted the survey of SNCF's stretch of railway, all the pixels were matched correctly which allowed them to render an accurate 3D model immediately. The real-world benefit of this is that a 3D model was created in less than two hours ready to be analyzed.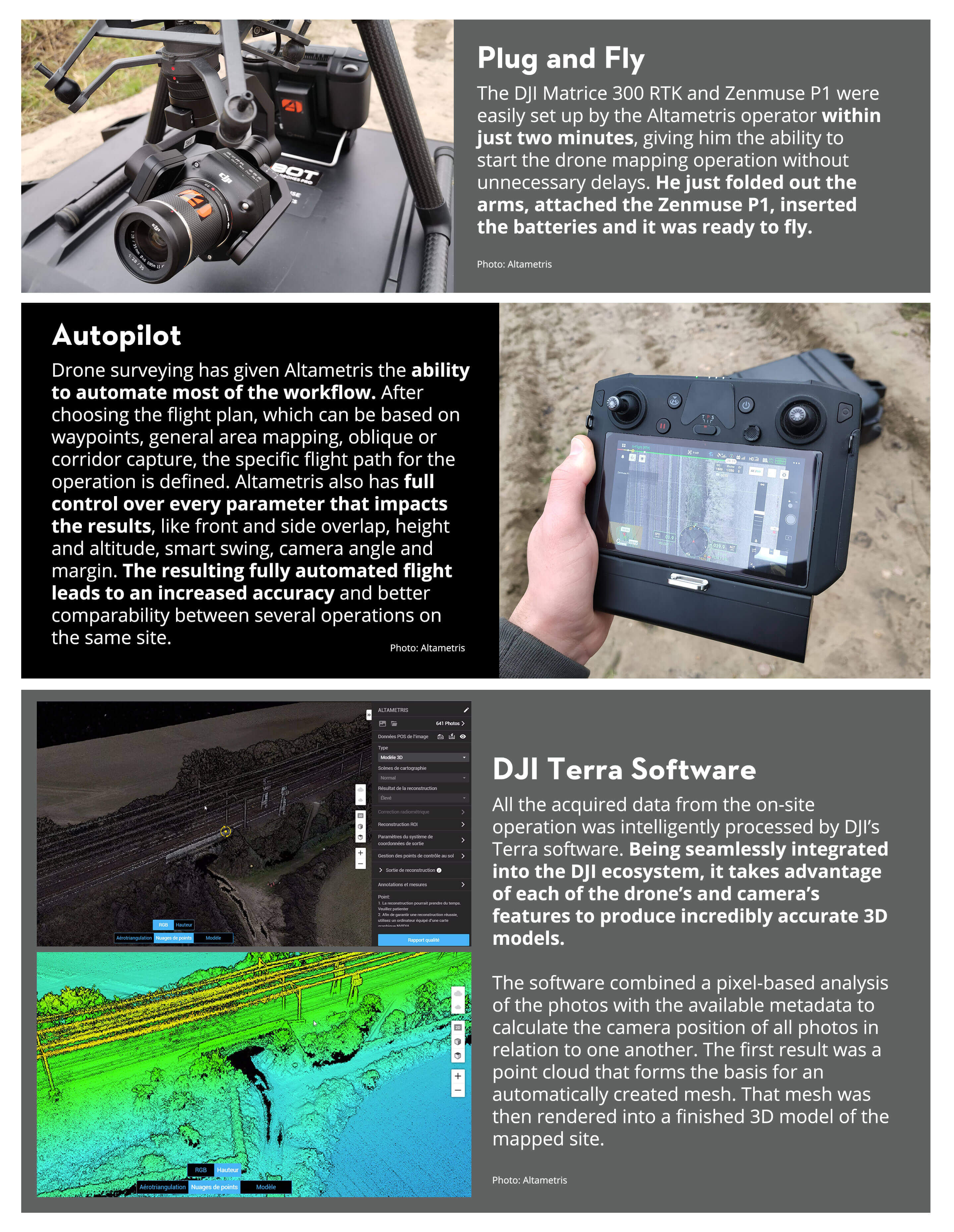 A giant leap from satellite to drone surveying
Triangulation techniques ensure that the satellites orbiting Earth used for GCP and tacheometer methods of surveying are highly accurate, and recreating that level of accuracy is difficult when undertaking alternative mapping and surveying methods. For this reason, Altametris compared the accuracy of the drone mapping like-for-like with both the accuracy of the GCPs and the results of previous mapping undertaken on the same site.
The results showed that:
The tacheometer delivered, as one would expect, millimeter accuracy.
The GCP method delivered accuracy to between 2-3cm.
The Matrice 300 RTK and Zenmuse P1 were accurate to around 2cm.
What the results don't reflect, however, is the sheer amount of data the drone and payload method collected compared to the other methods. Not only would a drone therefore provide a more comprehensive data output, but the post-surveying benefits could be huge thanks to far more detailed models being created.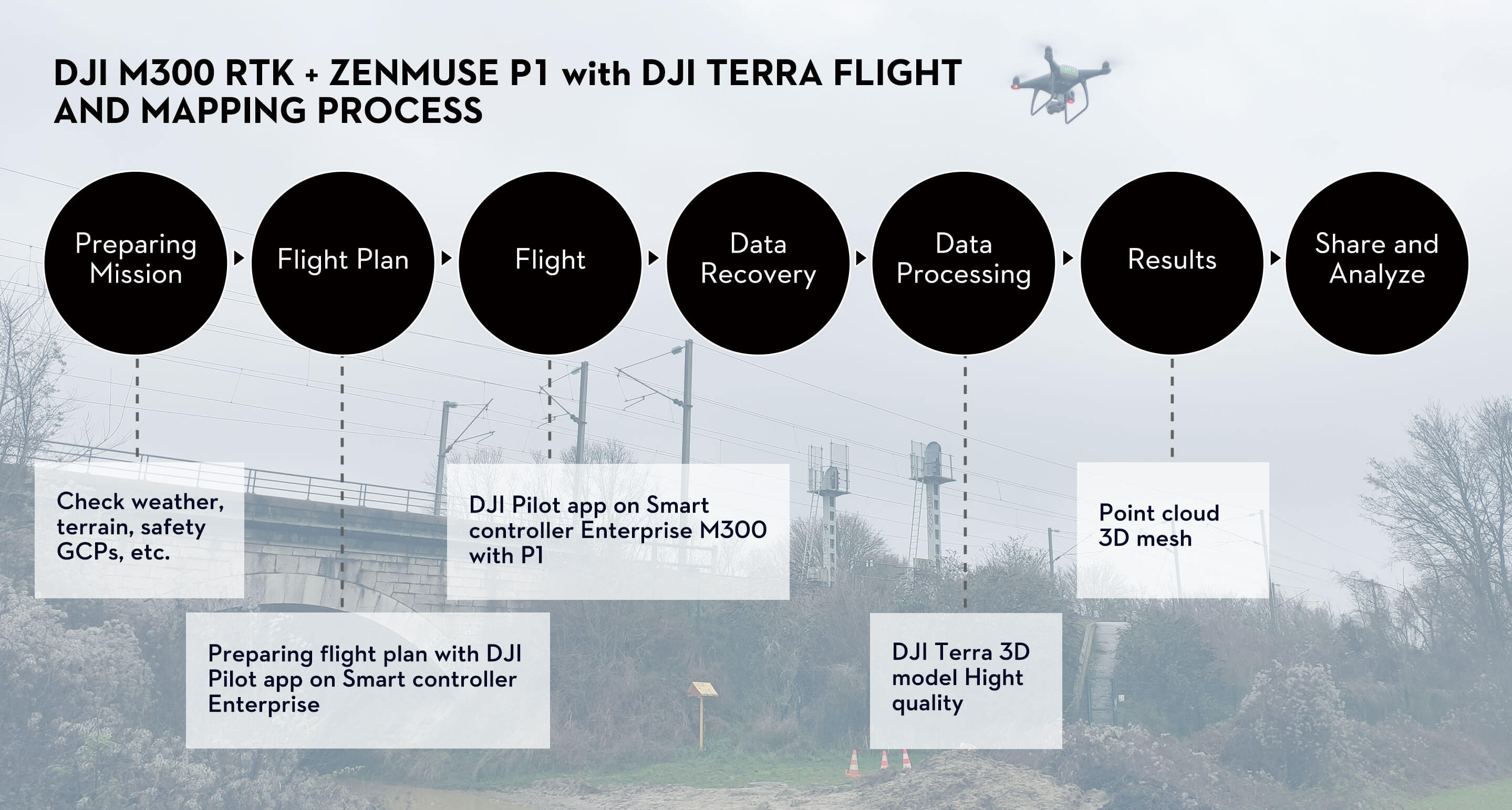 Little noise from the railways (Image credit: Altametris)
Above and beyond with DJI drone surveying
Based on the railway project, Altametris hypothesises that the demand for highly accurate and rich data will increase as surveyors become more aware of the digital tools available to them. As the marketplace becomes more competitive, surveyors will be driven to consider the accuracy, speed and cost of the methods they employ.
For larger surveying projects, drones emphatically tick all three of these boxes because of how intelligently they can create metadata like angle, altitude and RTK positioning, which are all important for surveyors. And with innovations like Smart Oblique Capture, not only can they capture wide-scale data more accurately than ever before but do so up to 15 times faster than traditional surveying methods – all while working safer.
When "time is money", it would be hugely remiss not to consider a drone solution. A Matrice 300 RTK drone and Zenmuse P1 payload is a £13,374 (ex. VAT) investment, which is actually less than the cost of the GCPs and Spectra GNSS received which Altametris use. Yet for a smaller investment, a surveyor's mappable size area is, in theory, limitless when using a drone. Even if you can't capture everything you need during the Matrice 300 RTKs 55 minute flight time, its "Operation Resumption" feature allows it to pick up exactly where it left off after a charge or battery swap.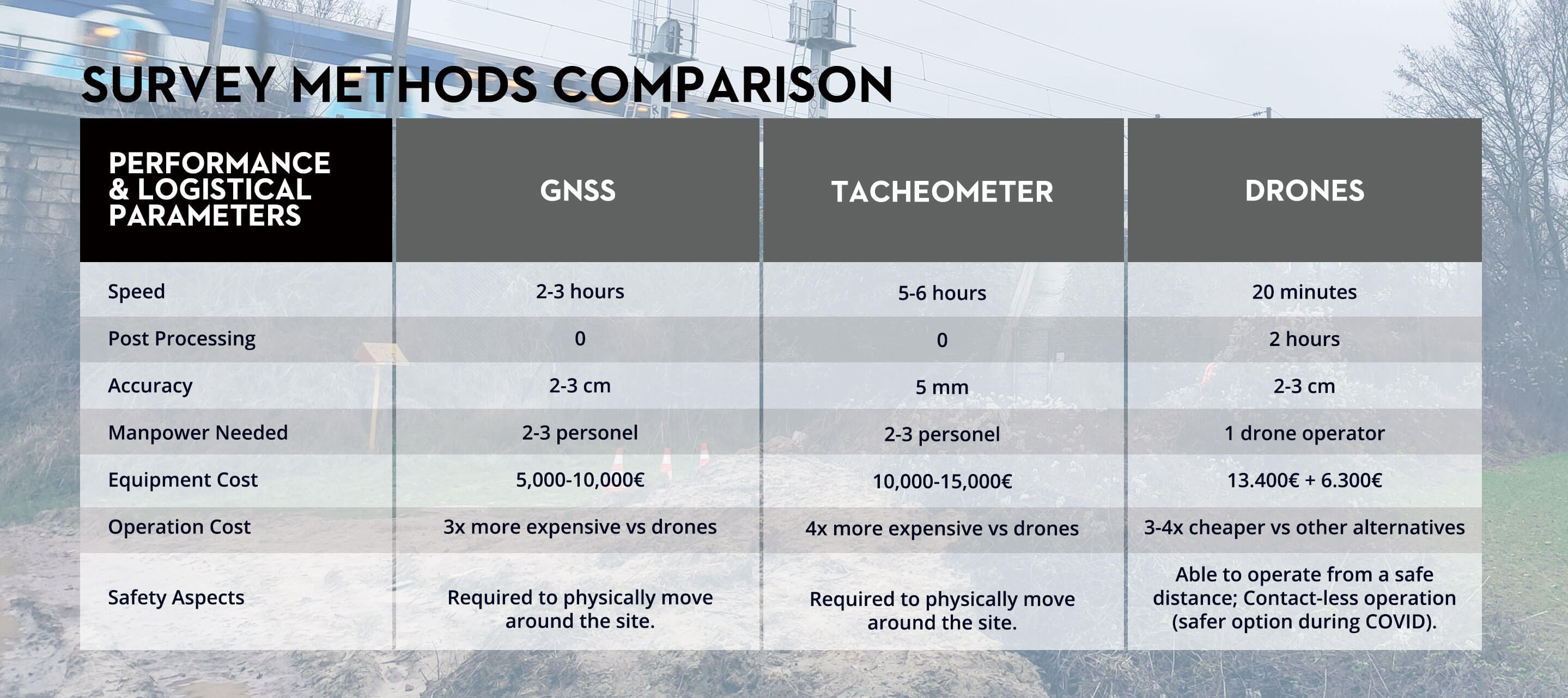 Comparing the two surveying and mapping alternatives GNSS and Tacheometer versus DJI Matrice 300 RTK with Zenmuse P1.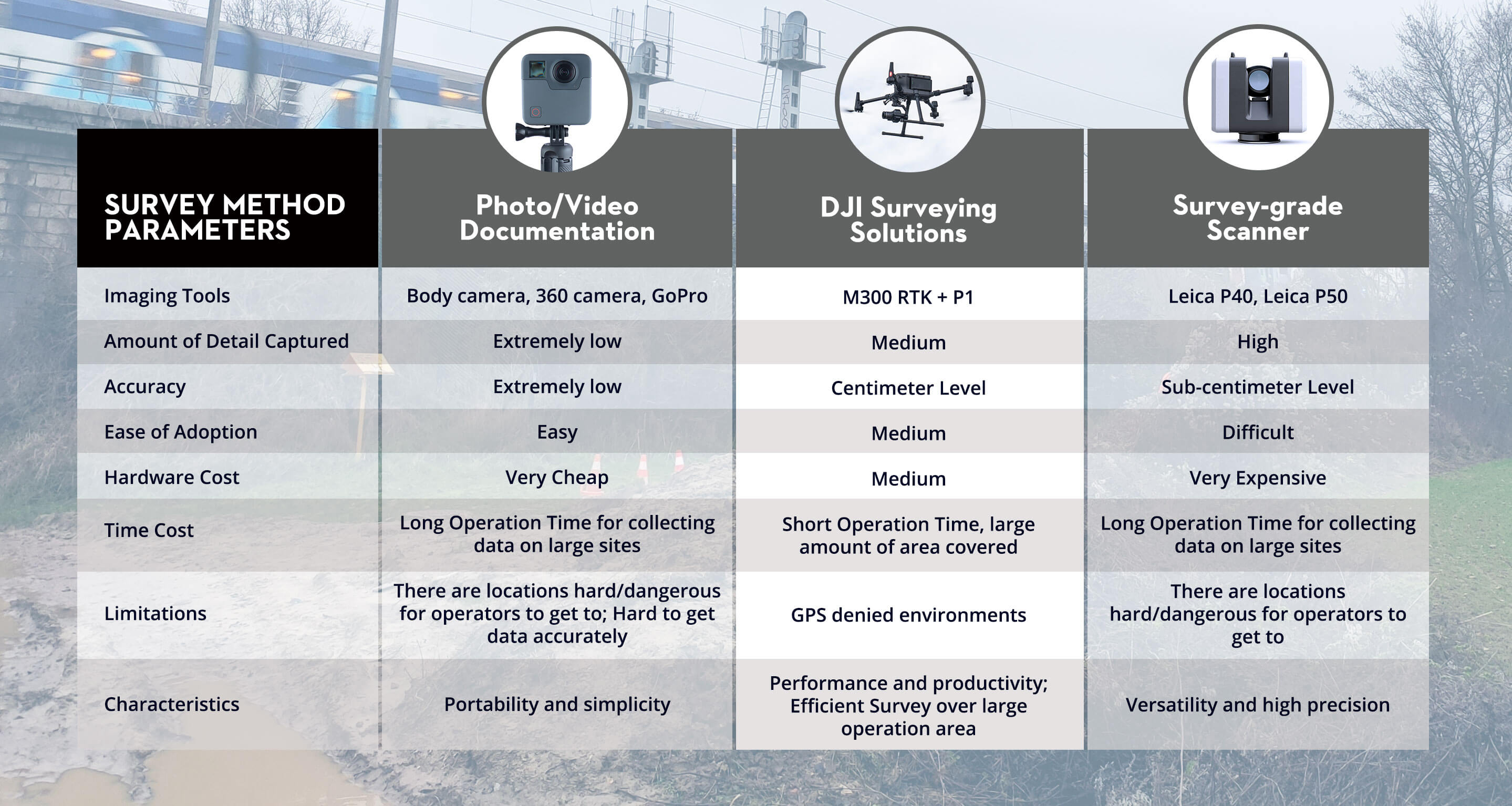 Comparing the different survey method parameters between DJI surveying solutions, photo/video documentation, and a survey-grade scanner.
Time and cost are perhaps the most important factors for surveyors like Altametris. Using the DJI solution, their business is changed completely now that they can complete a task 14 times faster for a quarter of the cost of alternative methods.
However, as mentioned several times throughout the article, the safety gains experienced when using a drone simply cannot be ignored. Collecting more data, which meets accuracy standards, from a safer distance is game-changing for surveyors working in places like railway lines.
The DJI Matrice 300 RTK pushes surveying beyond just capturing accurate, usable data. To do so faster, more accurately, more automated, safer and more profitably before is a huge draw. And because it is so scalable, there is no doubt that the Matrice 300 RTK, when used with a Zenmuse P1 payload, can become the gold standard surveying and mapping solution in no time – if it isn't already.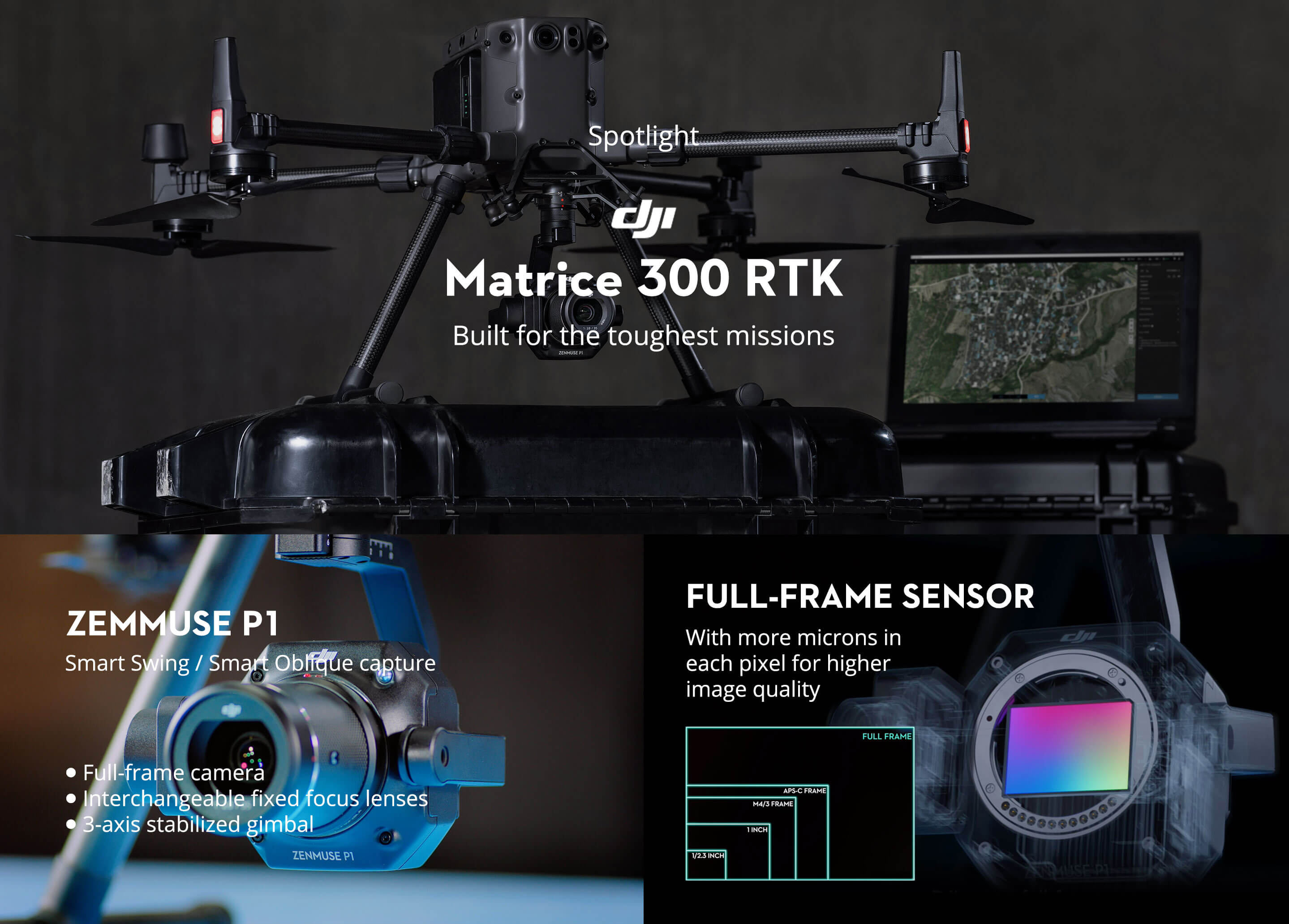 Get started with DJI today
DJI provides powerful aerial solutions which businesses can invest in to work more efficiently, accurately, safely and profitably than ever before.
If you are interested in the DJI Enterprise range and would like to know more, please contact Andrew Bird on 07376 609 910 or andrew.bird@syndico.net.
Article originally published by DJI Enterprise – https://enterprise-insights.dji.com/user-stories/3d-railway-mapping-with-drones-altametris.