How the Matrice 300 RTK boosted Valmont Utility's inspection efficiency by 30%
Valmont Utility is convinced the DJI Matrice 300 RTK drone with Zenmuse H20 Series payload is a machine that pays for itself.
Conducting powerline inspections is one of the best examples and most rewarding applications of using drone technology, however it has previously been one of the most challenging tasks. There are risks involved in powerline inspections, including corrosion, loose connections, damaged component parts or animal interference – things can and do go wrong.
In many US states, it is a legal requirement for power transmission and distribution (T&D) companies to conduct visual inspections, and detecting and addressing problems early can minimise the risk of customers losing power. Valmont Utility, based in Valley, New England, are a leading manufacturer of T&D utility poles and are a market leader when it comes to inspecting powerlines. Having undertaken inspections manually in the past, Valmont looked to DJI's enterprise drone solutions to conduct their inspections in a more efficient, safe and cost-effective way. Valmont were early adopters of using drone technology, and are reaping the rewards.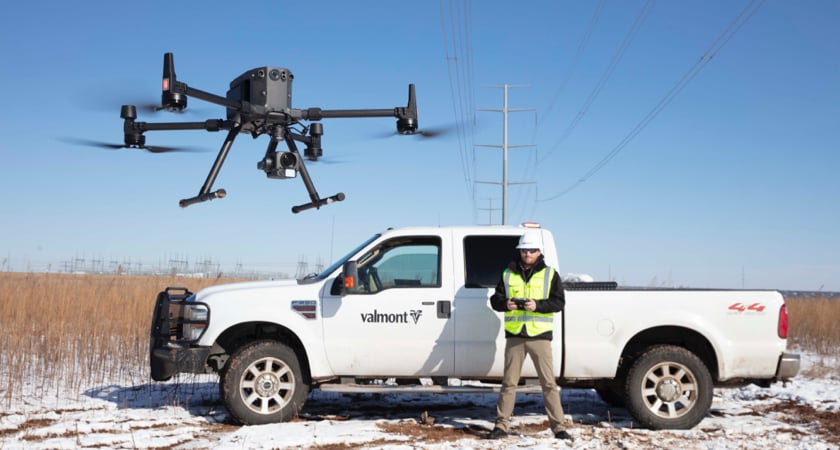 When technology meets talent
Valmont's drone programme began in 2018, based on primary data they had obtained which pointed emphatically towards moving away from sending technicians to conduct manual inspections using cranes. While the safety benefits of drones versus traditional methods were a reason enough to roll out the programme, they realised there were several other advantages which could be capitalised on.
"Over the last 2 years, we have switched roughly 70 percent of the inspection work over to drones," says Jake Lahmann, Quality – UAS Manager, Valmont Utility. "This has increased both the quality and speed of our inspections, and we can offer more accurate, actionable reports to the customers. Even more impressively, we have saved a ton of money, literally millions of dollars, for our clients."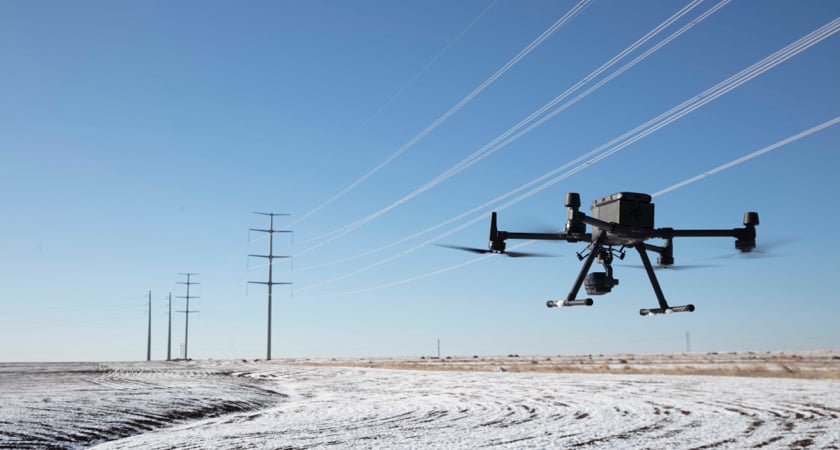 Inspecting utility poles using traditional methods like cranes can be extremely challenging, particularly because of the harsh locations which they are placed. These challenges come mainly in the form of access, but there is also a huge financial cost and a risk of assets like cranes getting damaged or stuck.
Since switching to drone operations, Valmont now only requires a two-person crew – a pilot and camera operator – for each inspection. Once the data is collected by the drone team, the hi-res data is then evaluated by their highly skilled inspectors at their offices, which is then used to plan for any required maintenance or repairs.
Flying around critical infrastructure
Ensuring the right data – and good quality data – requires skill and expertise, but also the right equipment. For example, drones used for powerline inspections must be resistant to electromagnetic interference (EMI) due to the high voltage of the lines, and pilots need the ability to fly at safe distances in various environmental conditions.
"We, typically, do not operate in the best of the conditions. It is dusty, wet, and even physically exhausting for the guys," Lahmann points out. "West Texas, for example, is both muddy and hilly, and requires us to brave strong winds."
This is where selecting the right equipment becomes vital because if it isn't not only could the data collected be inaccurate but customer property could end up being damaged. These risks are on the radar of Valmont's drone pilots during each mission. Lahmann admits: "A single mistake could mean replacing 20 miles of optical ground wire (OPGW), which is installed at the top of transmission towers, can cost several millions."
In order to ensure that EMI will never derail an inspection or cause damage to a customer's valuable assets, Valmont have invested in a fleet of DJI Matrice 300 RTK drones with Zenmuse H20 series payloads, which not only deliver the EMI resistance and flight performance required but also enables them to collect rich, accurate data.
A seamless solution for inspections
Rugged, reliable and safe
DJI's Matrice 300 RTK is the most appropriate drone platform for utility inspections by a significant margin, both from a flight performance and safety perspective. It can handle harsh weather conditions thanks to IP45 rating, withstand electromagnetic interference and is equipped with a next-generation collision avoidance system. It also comes with a rugged travel case, which makes it easy to carry around and fast to set up for a mission – ideal for Valmont's drone teams.
"Getting to a tower quickly for live inspections could very well save lives during natural disasters, when every second counts," Lahmann comments when discussing the M300 RTK's amazing portability. "Let's not forget that it's not just powerlines that we inspect, but also communication, police, and EMS (ambulance and hospital) towers."
Enterprise-grade transmission with OcuSync
DJI M300 RTK is equipped with an exceptional transmission system, which benefits live inspections. DJI OcuSync Enterprise delivers outstanding connection between the drone/payload and its pilot and operator(s).
For Valmont, this adds huge value to inspection teams conducting routine missions in harsh environments and difficult terrains. In real-life terms, Lahmann quips that "we can simply fly to a structure versus driving to it." As a result, every drone purchased by Valmont must be an M300 RTK with Zenmuse H20 series payload.
Significant time savings
Matrice 300 RTK drones deliver up to 55 minutes flight time, and batteries can be hot-swapped. For Valmont, this means that they don't need to swap batteries as often throughout the day, saving their drone teams valuable time and allowing them to do more inspections each day.
In real-world terms, Valmont crews can gain over 80 minutes per day in the form of time-savings – this translates to at least one additional structure which can be inspected that day, and sometimes more.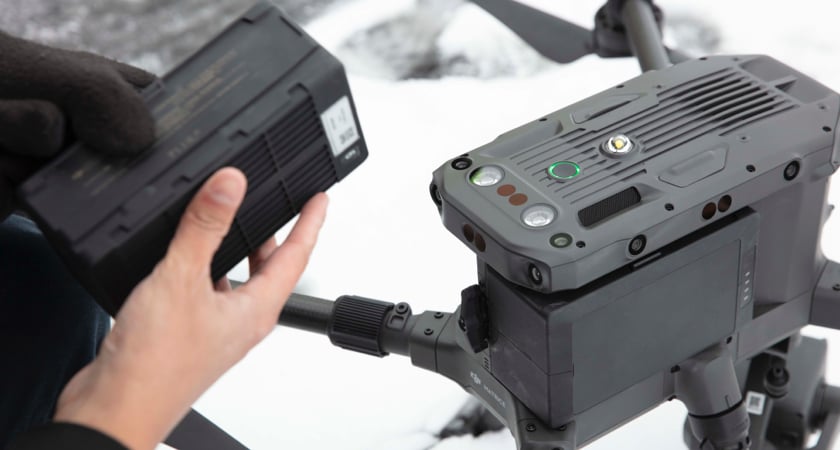 Improved sensor performance with AI
Valmont's chosen camera payload solution, the Zenmuse H20 series, also delivers valuable time savings. DJI's first hybrid sensor solution, H20 series payloads deliver 20MP zoom and 23x hybrid optical zoom, which means that Valmont's engineers can obtain more detailed imagery than before but from a greater distance. H20 series payloads allow the crew to frame an "area of interest" in wide-camera view, then the H20 will automatically capture hi-res images of the chosen area.
"That feature alone saves us about 10 minutes on each structure" according to Lahmann, who also adds that defect detection rate is actually higher when using H20 series cameras thanks to its zoom and image quality features.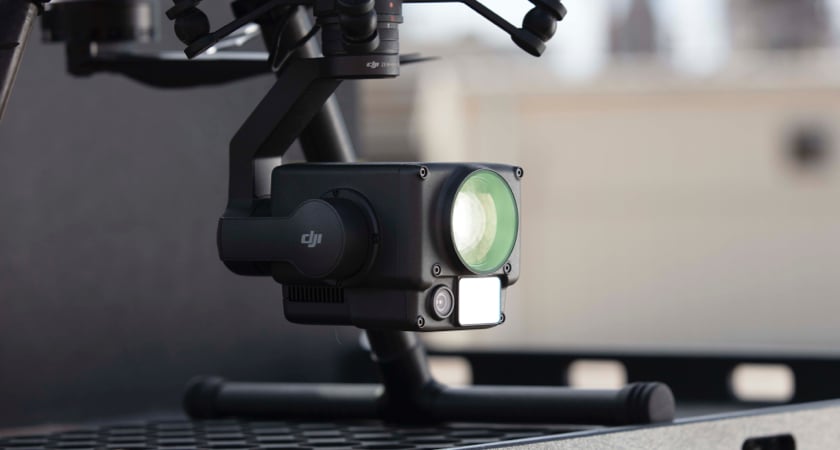 Key feature: AI Spot Check
Efficiencies gained in the field because of using the M300 RTK and H20 series combination will increase thanks to AI Spot Check, a proprietary DJI feature which allows a drone to create an "area of interest" for future missions. This allows the drone to replicate a position, angle and image frame for accurate before-and-after analysis.
"While some inspections are conducted annually, other projects require us to reinspect a structure every quarter", explains Lahmann. "AI Spot Check will allow us to truly compare apples to apples and tell our customers with foremost confidence whether everything is A-OK or not."
Future of inspections at Valmont
Valmont wants to continue to be a leader in contactless inspections of critical utility infrastructure. While heavily investing in enhanced data analytics, Lahmann maintains the importance of nondestructive testing (NDT) inspectors – in his words, "we don't want to remove the human element, we only want to make it better."
Valmont's drone programme has exciting future prospects with the company patenting four robotic arms which is plans to use with its drones in the future. They are also installing smart sensors in T&D towers which monitor and report their health status to their customers. If a sensor detects damage, for example, it can notify a customer quickly and, thanks to how fast a drone mission can be deployed, the asset can be evaluated in record time.
"Overall, the M300 RTK with Zenmuse H20 Series payload has increased our efficiency by at least 30 percent. This means that this drone is not just a purchase for us; it's an investment that would pay for itself." – Jake Lahmann, Quality – UAS Manager, Valmont Utility
Learn more about DJI drones for inspections
DJI provides powerful solutions to deliver inspections more efficiently, accurately, safely and profitably than ever before.
If you are interested in the DJI Enterprise range and would like to know more, please contact Andrew Bird on 07376 609 910 or andrew.bird@syndico.net.
Article originally published by DJI Enterprise – https://enterprise-insights.dji.com/blog/drones-boosted-inspection-efficiency-valmont-utility-30-percent