Which types of surveying projects are drones ideal for, and what's the ideal drone to use?
Why drones are becoming go-to tools for surveying professionals, and what's the perfect surveying starter drone?
Surveying professionals have, for the most part, been hesitant to adopt drone technology. They need reliable and accurate methods, and as traditional methods do work surveyors can be forgiven for not trying to fix something which doesn't appear to be broken.
Scepticism around adopting drone technology, however, is driven by some misconceptions, and many surveying projects would actually be completed with greater accuracy when using a drone instead of traditional methods. And although accuracy may not always be met or bettered, there are some obvious trade-offs which include huge cost, time and safety savings when using drones.
Other industries, most notably inspections, have been transformed by the use of drones, and surveying should not necessarily be any different. Sometimes traditional methods will be the only feasible option, however not as often as some may think.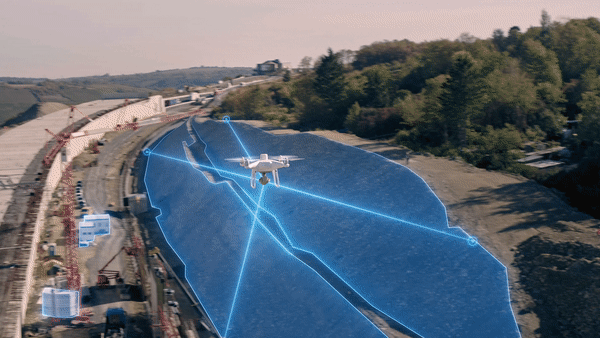 Why are traditional surveyors switching to drones?
Drones allow businesses to save time, operate more profitably and boost safety – for surveyors in particular, these are three major boxes to tick.
Altametris, for example, are a data collection and analytics branch of French rail form SNCF. When exploring new methods of surveying when sketching a stretch of railway, they discovered that using a DJI Matrice 300 RTK drone with Zenmuse P1 payload reduced operation preparation time by two hours. Because of the M300's built-in RTK module coupled with the P1's full frame sensor, they were able to collect enough metadata to effectively reduce the number of Ground Control Points (GCPs) required to zero. This presents huge efficiency and cost saving opportunities for Altametris who, previously, would require 40 GCPs per square kilometer for surveys accurate to 3cm.
A key efficiency which surveyors like Altametris would benefit from is the physical handling of equipment during an operation. Railways, for example, and dangerous places to work and have plenty of complexities. By introducing a drone programme, they could spend less time on site, build more automated processes and significantly boost the safety of their personnel, while not losing any accuracy. All these factors apply during sub-optimal conditions as well; for example, Matrice 300 RTK drones can withstand harsh weather thanks to IP45 rating and have integrated obstacle-avoidance technology, and Zenmuse P1 payloads can perform despite low light conditions.
GCPs are a key metric for surveyors, and drone technology undoubtedly reduces the number of GCPs required – saving valuable time across the site. However, safety and accessibility are arguable the two areas where drone technology can really benefit surveyors. There are many other applications aside from railways where both safety and accessibility are causes of headaches for surveyors, and many environments are far more suited to machines.
And the quality and amount of data produced by enterprise-grade drones can be hugely significant for surveyors. They provide almost infinitely more data and detail compared with manual human operations, yet require a fraction of the human resource.
Which types of surveying projects are ideal for drones and traditional surveying tools?
Traditional methods can still provide great value to surveyors, despite the benefits drone technology can provide. Qualifying the requirements of the project is an important job for surveyors, with the degree and type of accuracy required giving a good indication of the most suitable method.
Differentiating between "absolute" and "relative" accuracy is a good place to start. Generally, if accuracy within 2cm is required then an element of traditional surveying should be used. However, drones can easily and repeatedly deliver accuracy to 5cm, which could narrow to 1cm depending on the flight parameters and payload specification.
Projects where "relative accuracy", defined as "the accuracy of where objects are in relation to one another", is the most important factor can result in reconstructed digital models including 3D cloud points or orthomosaic maps. "Relative" approaches can simply and quickly assess volume, height and distance, but these measurements should be geographically orientated using GCPs or should be supported by UAV Real-Time Kinematic (RTK) technology, which collects and geotags images with GPS information.
If projects require sub-1cm accuracy, traditional tools are often the most appropriate solution.
Surveying projects ideal for traditional surveying tools
Surveying projects that are indoors or underground
Surveying using drones either indoors or underground is not always feasible due to low-light conditions or limited GPS signal. As a result, surveying projects in environments like caves and internal structures are better suited to tacheometric or terrestrial laser scanning (TLS) methods. However, there are solutions in the works that combine drones with simultaneous location and mapping (SLAM) navigation and LiDAR sensors – these are particularly relevant for underground applications.
Surveying projects that involve obstructing objects
Obstructions in the form of buildings or foliage can complicate drone-based aerial survey missions, especially when they mask elevation changes. LiDAR technology can penetrate sparse foliage, however the presence of more dense structures like trees can damage the overall accuracy of the mission.
Projects that have no strict deadline
The major advantage of conducting a survey using drone technology over traditional, manual methods is time saving. However, not all surveying jobs are required to be completed within a strict deadline and there is therefore often a balance to be struck between accuracy and completion time.
For those who can afford the extra time taken to use a traditional method for greater accuracy, drone technology may not be required. However, drones do boast several natural advantages including their ability to cover more ground faster and significantly reduce the required number of GCPs.
Surveying projects where drones shine
Inaccessible areas
Certain infrastructure and environmental locations are naturally out of reach for those wishing to survey using traditional methods. These environments are often lacking data-based intel and, particularly on a large scale, drones are not only an ideal solution but often the only realistic solution. The most obvious examples include phone towers, treetop canopies, solar farms and bridges – these can all be easily, accurately and comprehensively mapped using drones.
Dangerous terrain
A huge benefit of using drones for surveying is to reduce the risk of human injury – or worse – in dangerous places. Other than obvious examples like tall buildings and structures, this also applies to locations that are within normal reach; just because a survey on a rooftop, ledge, steel slope, railway line or unstable ground could be conducted using a traditional method, the safety benefits of using a drone often outweigh the rationale for not employing aerial technology. Thanks to DJI Enterprise drones' high-resolution image and zoom capabilities, just about any location can be surveyed from the safety of the ground.
When data depth matters
Drone surveying provides a surveyor with so many more potential available outputs compared wit traditional methods. Examples include:
Agricultural surveys, where multispectral sensors and HD cameras can be used to analyse crop health in great detail and a different dimension.
Topological surveys, where LiDAR and photogrammetry can be used to create 3D point clouds, high density terrain models and orthomosaic maps.
Stockpile surveys, where an aerial perspective and a few HD images can provide accurate volume measurements which reduce the chance of human error while keeping staff safe.
Why the Phantom 4 RTK is the perfect surveying starter drone
If you're looking to start a drone surveying programme, you need to choose the correct hardware.
First, you must consider the required spatial resolution or Ground Sampling Distance (GSD) for your survey. The detail that you can capture is dependent on your drone's sensor resolution and focal length, and the altitude you can achieve for your survey is dependent on your drone's flight time, vertical and horizontal speed, wind resistance and obstacle avoidance capabilities.
For the vast majority of survey missions, the DJI Phantom 4 RTK is the complete package and is truly an out-of-the-box solution at an affordable price point. Here are just a few reasons why P4RTK is the perfect starter drone:
It has a 1inch, 20MP CMOS sensor.
It has an enterprise-grade mechanical shutter, which can speed up image acquisition with virtually no distortion compared with consumer-grade drones.
It has a wide-angle lens with 24mm focal length which consistently captures clear images.
DJI Phantom 4 RTK
Diving further into the technology behind the Phantom model, because it uses RTK technology it can effectively bring the number of GCPs required to zero. Even though it is recommended to have a few GCPs per square kilometer, P4RTK users can reduce their GCP setup time by at least 75%. And because P4RTK uses DJI's TimeSync technology, each image is tagged with accurate geospatial data.
When it comes to flight performance, P4RTK excels as a starter drone. It can deliver around 30 minutes flight time (it also has hot-swappable battery functionality) and can fly at over 30mph. In real-world terms, this means that surveyors can cover more ground than before in less time than before. And using DJI's GS RTK app remote controller setup, surveyors can easily setup comprehensive missions which they would not be able to do with a consumer-grade drone.
Phantom 4 RTK Data Outputs
Surveying with a Phantom 4 RTK unlocks so many data possibilities. The exact deliverables depend on your choice of software, but potential outputs include:
Orthomosaic Maps
Each orthophoto (an aerial photograph which has been geometrically corrected to uniform the scale of the photo with the scale of an aerial map) taken by a P4RTK contains geospatial data and accounts for the perspective from which it was captured, any lens distortion, camera tile and variation in topography. High definition orthomosaic maps are common survey outputs; images captured by a drone can be amalgamated to provide an aerial view to aid project planning, decision-making and tracking.
3D Surface, Terrain, and Elevation Models
Images captured by P4RTK drones carry data across three dimensions – latitude, longitude and altitude. This is how, using the images it captures, it enables drone surveyors to create a 3D model using DJI Terra.
Combining geographical data points with HD images, DJI Terra can build immersive, realistic models of just about any structure, asset or landscape. This model can then be used for project planning, obtaining measurements or analysing progress.
A Digital Surface Model (DSM) is an example of an output from DJI Terra, which can give the textural feel of a site and a tool to explore it. You can also create Digital Terrain Models (DTMs), which are built with the same data but remove man-made objects, and Digital Elevation Models (DTMs) which represent the bare surface of Earth by removing both natural and man-made objects. When contouring topographic maps, DEMs are used.
Drones in action: Using the P4 RTK to map transport infrastructure
Rhein-Neckar-Verkehr GmbH (RNV) is a public transport operator in Western Germany. They transport around 370,000 passengers per day, including 827km of bus lines and 301km of tram lines. With the help of surveying specialists Vermessungbüro Wolfert GmbH (VW), RNV employed a Phantom 4 RTK to see if they could more accurately survey a stretch of their train tracks compared with traditional methods (Total Stations).
By flying over a section of the track, they created a 3D model using the geotagged images captured before taking some key measurements. These were then assessed alongside RNV's standard measurement templates for comparison. The experiment highlighted how much more data was collected by the drone compered with computer-aided design (CAD) outputs from the equivalent Total Station survey, and how the aerial data collected can be more easily and innovatively used for project planning.
This level of detail can be valuable when evaluating the foundations of a transport route. When comparing the P4RTK and Total Station results, VW found that the drone's measurement accuracy was within 1.5cm of the traditional method.
For RNV, the benefits of conducting the survey using drone technology go way beyond the accuracy of the eventual output. During traditional surveying of train tracks, worker safety is a huge risk even when the lines are closed. And closing the lines for the time required to conduct a comprehensive survey has a negative impact on customer and, ultimately, RNV's revenue. "Contactless" aerial surveys significantly reduce the risks to ground staff, and allow operators to keep services open, even just on a reduced timetable. And even though many consider traditional surveying to be more accurate than drone surveying, the time pressures involved with the former can lead to increased human error, furthering the argument for using drone technology for such missions.
During RNV's project, use of a P4RTK highlighted the increased depth of data they could obtain with a drone programme. Creating 3D models from an aerial point of view can build a better platform for discovering fresh insights, although certain data points can't be captured from above due to factors like thick overhanding foliage. But by surveying as much of the area as possible using a drone programme combined with specific, targeted classic surveying, operators like RNV can be far more insightful so that they can deliver greater value to their customers.
Ready to unleash the Phantom 4 RTK?
A single flight with a Phantom 4 RTK can provide the data you need to generate orthomosaic maps and precise 3D models.
If you are interested in Phantom 4 RTK and would like to know more, please contact Andrew Bird on 07376 609 910 or andrew.bird@syndico.net.
Article originally published by DJI Enterprise – https://enterprise-insights.dji.com/blog/when-to-use-surveying-drones.