Hensel Phelps is one of the US' largest general contractors, and has discovered a new level of efficiency since implementing a drone programme.
Construction sites are dynamic and ever-chancing environments, with project managers often having to juggle important tasks and subcontract extra resource. Mangers also have significant responsibility for keeping various stakeholders informed of the project's progress, so it's no wonder technologies such as drones are being employed in the search for greater efficiency and profitability.
Drones are becoming commonplace in the architecture, engineering and construction (AEC) industry thanks to their ability to provide better viewpoints in a safer way and to streamline workflows and virtual designs. In addition, project visibility to all the key stakeholders has been improved thanks to drones' ability to capture and present hi-res photography, video and maps which can be leveraged by everybody involved in the project.
Drones give decision-makers a platform to make better decisions by providing comprehensive, "big-picture" perspectives. And for businesses like Hensel Phelps, this importantly contributes to more safer working conditions, greater profitability and a better overall experience for their customers.
The need for a better solution
Established in 1973, Hensel Phelps is one of the USA's largest general contractors. They are always on the hunt for new technologies which they can use to deliver improved efficiency. The business began planning a drone programme in 2010, mainly to improve the speed and quality of on-site situational awareness.
"Catering to several different market sectors through our nine district offices means that we have more than 30 job sites active at any given point of time," explains Richard Lopez, Hensel Phelps' Virtual Design and Construction Manager. "Typically, we would hire an aerial photographer for the job. But apart from the fact that it is an extremely expensive solution, we are forced to rely on their setup, which could be as basic as a person hanging from the window of a low-flying aircraft and taking pictures from a common DSLR camera."
"When drones were introduced, we knew right away they would be the perfect tools for our job sites," says Lopez, a member of the team at Hensel Phelps who concluded that they need more high-resolution data. "We could use drones to create orthomosaics and videos for better site planning, management, and monitoring. In large sites, we could easily identify strategic zones such as laydown areas or delivery rows. We could even capture site progress photos for project owners, speeding up the process of getting the spends approved from investors and financial institutions."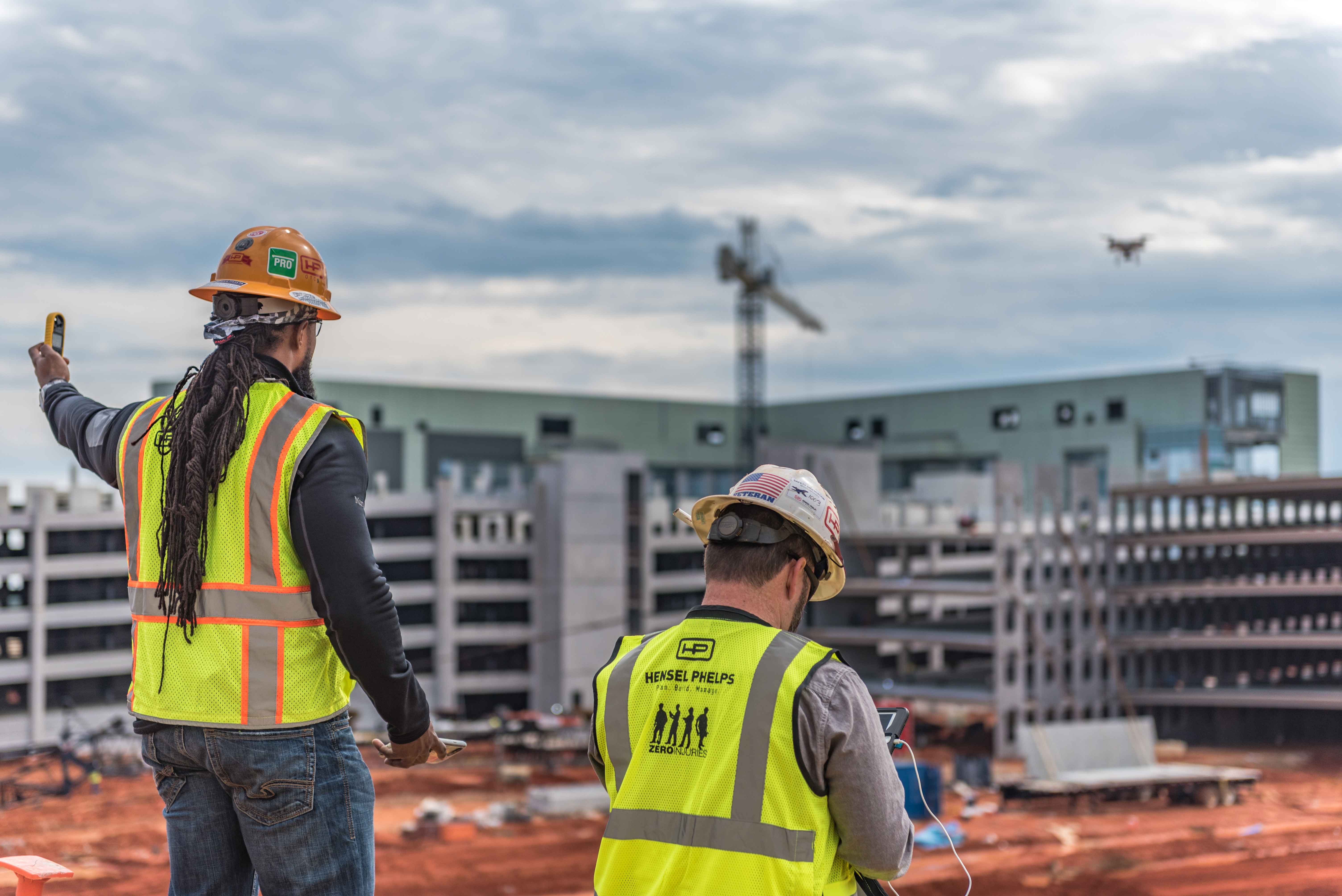 In-house drone program with safety as a priority
Hensel Phelps have a "zero accident" approach to their safety culture, so any new technology needs to fit with their model. The introduction of drones was no different; according to Lopez, "[Hensel Phelps] needed reliable drones equipped with obstacle detection and collision avoidance sensors, and we needed them at a reasonable price point. With their safety focus strongly mirroring ours, DJI soon became the obvious choice for our drone program."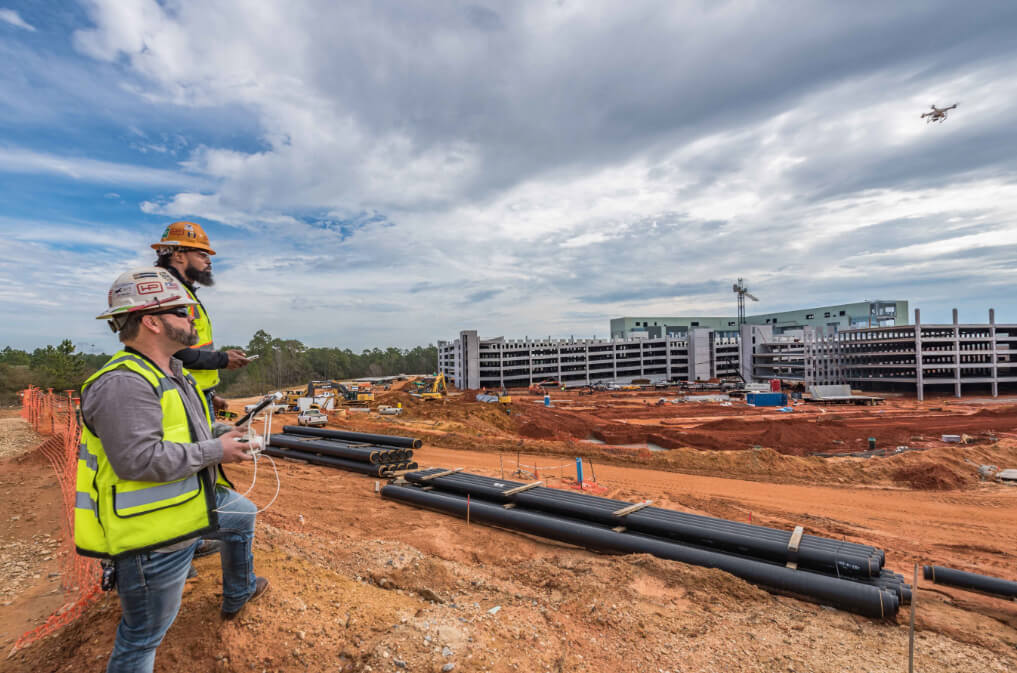 The business required firm protocols in order to deploy an organisation-wide fleet of drones for their programme. "We created checklists, procedures, and maintenance programs for each piece of the equipment. We developed drone zone maps and identified emergency landing sites. We roped in auditors and attorneys to ascertain we were following all the rules and regulations laid out by the Federal Aviation Administration (FAA) and doing everything in a safe manner," tells Lopez.
When Hensel Phelps win a project, they make an early decision as to whether a drone is required on-site for the overall benefit of the project. Then when the exact requirements are agreed, the most appropriate hardware solution is chosen.
"The point I try to get across to all team members is that when we construct a building, we have several different tools at our disposal. Similarly, there are different drones available for different applications. So, if it is a large site where we are going to excavate for a prolonged period, a Phantom 4 RTK (now discontinued, superseded by Matrice 300 RTK with Zenmuse P1 payload) becomes our weapon of choice because of its elevated accuracy. If the same project requires thermography toward completion, we make room in the budget for another specialized drone," Lopez explains.
DJI Matrice 300 RTK provides enhanced site surveying efficiency and accuracy.
Once the best hardware option is selected, the business then simply has to identify and train enough drone pilots relative to their requirements. However, Hensel Phelps are learning regular lessons in safety which they use to continually improve their programme. "One time, there was a rogue hobbyist drone flying recklessly around our job site, and soon we received a bunch of phone calls from neighbouring building owners asking why we were being so irresponsible. Even though it was not our drone, we realized we needed a protocol to check in with the surrounding building occupants and let them know of our procedures."
Demand for drones on-site increased significantly, which led Hensel Phelps to outsource some jobs to third-party drone operators while scaling up their operation in line with their ambitions and strict safety protocols. The company now owns 22 drones which are operated by nearly 30 qualified pilots. Lopez comments, "we have identified chief pilots in each district, who then have their own team of pilots to supervise. Even if we use a third-party consultant at a site, these chief pilots act as our gatekeepers and ensure every protocol is being met."
Pushing the boundaries of drone use in construction
Thanks to the tight health and safety foundation the Hensel Phelps drone programme is built upon, they have obtained a highly unusual FAA waiver to conduct drone flights over humans. "That approval was valuable because it meant we no longer needed to restrict ourselves to flying early mornings or late afternoons or on weekends when the sites are not active," Lopez smiles.
Hensel Phelps are, however, very selective with how and when they use their waiver. "Since our goal is to avoid flying over people as much as possible, we make sure to brief all employees and subcontractors beforehand. We don't want to disrupt any of their workflows."
The business acknowledges that their drone programme has taken them to a new level, and being an early adopter of drone technology was key in helping them achieve such a result. Lopez reflets on an early story of when the value of their drone programme became very clear.
"For an exterior inspection of a 15-story building, we would traditionally have spent a lot of money in hiring workers to set up scaffolding and then the inspection crew would do their job; it would have taken weeks. But, once we were armed with drones, it took us only 4 hours to complete the flying, 8 hours to process the data, and another 4 hours to analyze it. It was uncanny how fast we could finish that inspection!"
The next step for Hensel Phelps' drone programme – one which will help them improve even more with planning, inspections and surveillance – is machine learning and predictive analysis. "Given all the aerial data that we are continually gathering, we can analyze it to gain insights that would allow us to build a better building and make sure our crews are performing at the highest levels of safety," Lopez says.
Lopez's advice for other AEC businesses looking to implement a drone programme includes:
Identifying individual requirements the value you are looking for a drone programme to achieve.
Set and stick to realistic and relevant goals.
Invest in the right hardware solutions depending on your requirements.
Safety should always be the top priority, and good drone programmes are built on sound health and safety initiatives.
Appropriate and thorough pilot training is essential, as without a skilled pilot the output may not be what you want.
Track and document flying hours to best demonstrate the value of your drone programme and accurately report efficiencies.
Learn more about drones for AEC projects
DJI's range of enterprise-grade drone solutions are purpose-designed to deliver efficient, safe and profitable aerial services for business users everywhere.
If you are interested in the DJI Enterprise range and would like to know more, please contact Andrew Bird on 07376 609 910 or andrew.bird@syndico.net.
Article originally published by DJI Enterprise – https://enterprise-insights.dji.com/user-stories/drones-in-construction-hensel-phelps.